Michelle and Mark had planned an outdoor destination wedding at the beautiful Desert Botanical Gardens. Thanks to Covid, plans changed. The couple eloped in the Carolinas where they lived and after restrictions were lifted, everyone came out to AZ to have a great big party.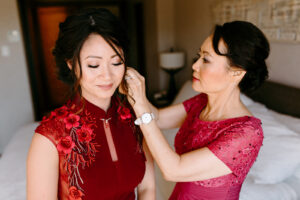 Since the couple only had a small wedding ceremony on the east coast where our bride wore a white dress, she decided to attend her reception event in a traditional red dress to honor her Chinese heritage. We would incorporate other details to honor this as well throughout the rest of their day.
As they arrived at the botanical gardens they took photos with immediate friends and family. Since we were no longer having a ceremony, their wedding party was relaxed and attended in casual attire. The couple then took some private portraits as they strolled through the exquisitely curated desert exhibits.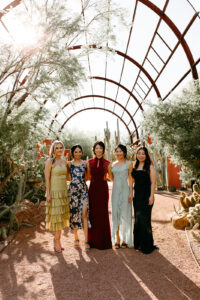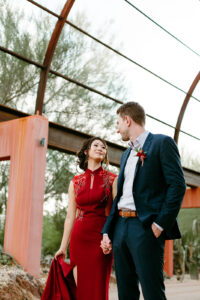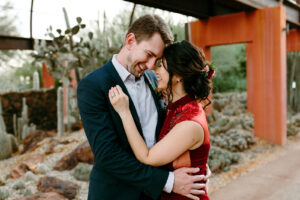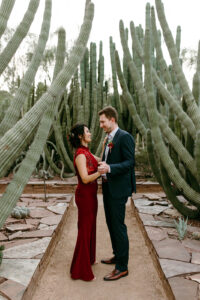 Guests began to arrive and went straight into an outdoor cocktail hour surrounded by saguaros and live musicians provided by their band ,The Lucky Devils.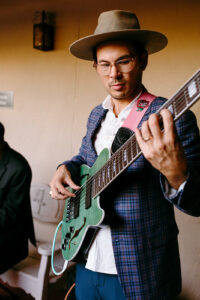 Guests then were escorted to an adjacent outdoor pavilion for dinner but before everyone was to find their seats a surprise was to be had. They were unable to have the original ceremony they wanted, so Michelle honored her family by performing a tea ceremony. Tea ceremonies in Chinese weddings are where the bride and groom present tea to show their respect to the elders and they in turn show their acceptance of the marriage. Her family was delightfully surprised and it proved to be a very moving moment for all who witnessed.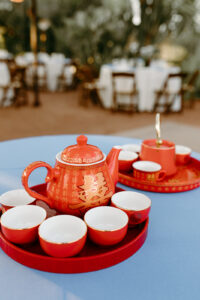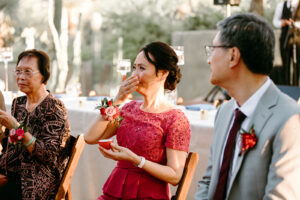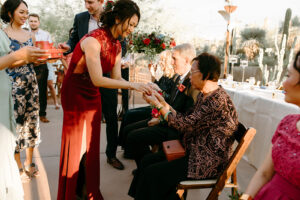 Everyone found their seats that were sprawled under bistro lights, candles, and with a cactus laden mountain as the backdrop. Tables were decorated with accents of bright red, blue, and gold again to honor cultural meanings of wealth, fortune, luck, peacefulness, and loyalty. Dinner was relaxed and guests ate delicious food provided by Creations in Cuisine Catering.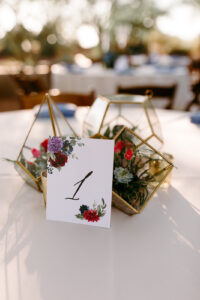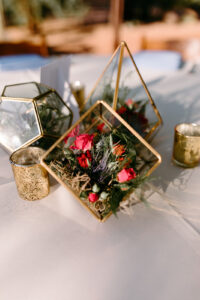 Even though this was just a big party, the couple still needed to have their first dance! They danced to "A Girl Worth Fighting For" from Mulan, with Michelle temporarily breaking out into a choreographed routine to the delight of Mark ,the groom, and guests. This dance was one of our all time favorites, we love when couples go out of the box and do something different. Well done!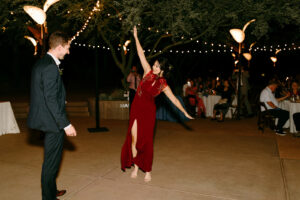 Everyone danced the night away to a live 8 piece band while nibbling on delicious bite sized desserts. And for one final touch, the couple cut a small cake adorned with their sweet furbaby who was not able to be in attendance. Even though Covid made alternative plans for this couple, we were still able to create a beautiful, fun, and memorable evening for them and their families in spite of all obstacles!