Desert Botanical Gardens had a last minute opening, Eric and Jenna could not wait another year to get married and took it. We planned this beautiful wedding in under 3 months! All inspired by Arizona's beautiful sunsets.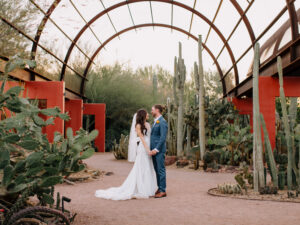 They chose the Dorrance Center at Desert Botanical Gardens. As guests arrived they got to walk to ceremony through the beautifully curated grounds surrounded by all the wonderful foliage the Sonoran Desert provides. The floral, created by Gardengate Flowers, and bridesmaids gowns were all inspired by the vivid colors in Arizona sunsets. Penny, their adorable furbaby, was also a bridesmaid (in a matching gown of course), was escorted down the aisle and had a front row seat watching Mom and Dad say I do. All while the sun started to set in this picturesque outdoor ceremony.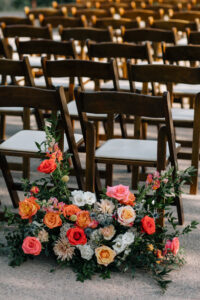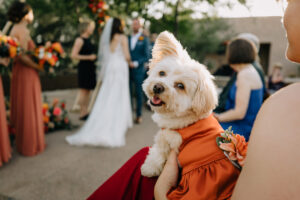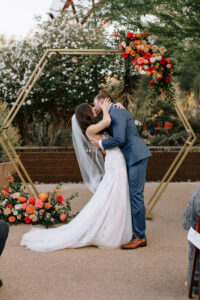 As the couple left to do more photos with Aaron Hoskins of The Hoskins Photography, guests enjoyed an outdoor cocktail hour on an adjacent patio. They feasted on a gourmet cheese display and sipped on Prickly Pennys, prickly pear margaritas named after you know who! Our signature drinks added another touch of the Southwest to the evening, as much of our guests were from out of town , we wanted them to experience a little bit of AZ all throughout the night.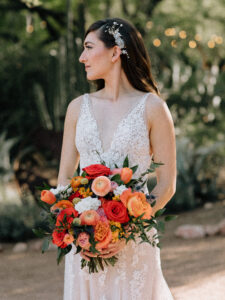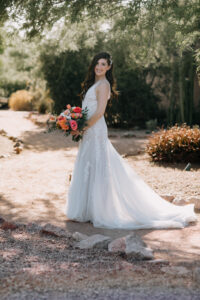 After some cocktails, guests then entered the indoor reception. Tables were filled with bold, colorful floral and touches of artwork by local artist Aileen Martinez of Look. See. Draw. Each table was named after one of the couple's favorite places in Downtown Phoenix. Their hexagon arch was repurposed and made into a stunning backdrop for their sweetheart table.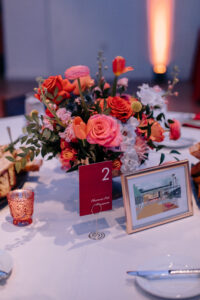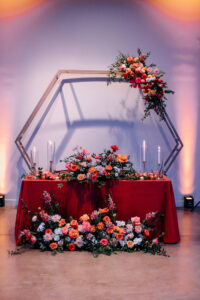 Everyone was treated to a Southwest inspired dinner provided by the always amazing Atlasta Catering. Who could say no to these braised short rib enchiladas? Atlasta also provided a delicious dessert table adored with individual chocolate, cajenta banana, and coconut cream lemon cake mason jars. Are you drooling yet?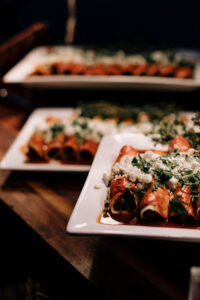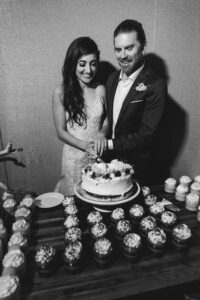 The rest of the evening was what the couple wanted exactly… drinking, dancing, and guests just enjoying being together for this joyous occasion. With Jenna and Eric being such a gracious couple, and the amazing vendor team that came together, we were able to create such a beautiful flawless day for these two in a short amount of time. And much thanks to Penny for being one of the best and sweetest bridesmaids we ever had!